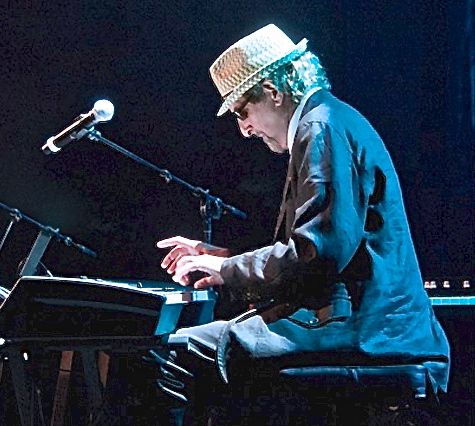 David Maxwell amassed an enormous resume throughout the years playing
piano with some of the greatest and best-known musicians in the blues.
David played many styles of blues, jazz and improvised music, but he
was best known for his soulful virtuosity and unmatched ability to
reach the heart of post-war Chicago Blues. Through his work, he gained
the respect of artists, critics and fans and, long before he succumbed
to cancer in February 2015, David had established a reputation as one
of the finest blues pianists of all-time.

David took part in James Cotton's 1997 Grammy winning album "Deep In
The Blues" and also contributed a solo piano piece to a Fred MacDowell
tribute album that was nominated for a Grammy. David has 14 WC Handy
Blues Music Award nominations. His album, "You Got To Move", featuring
the late Louisiana Red, won the 2011Acoustic Album of the Year BMA
award, and in 2012, his CD "Conversations in Blue", a collaboration
with one of Otis Spann's records, won the same award. His other
nominations were for the "Pinetop Perkins Piano Player of the Year".
David has played with many of the greats including John Lee Hooker,
Freddie King, Bonnie Raitt, James Cotton, Otis Rush, Hubert Sumlin,
Buddy Guy, Jimmy Rodgers, Charley Musselwhite, Johnny Adams and Ronnie
Earl; and gigs with Muddy Waters (replacing the ailing Otis Spann one
night), The Fabulous Thunderbirds, Levon Helm, Jimmy
Witherspoon,Lowell Fulsom, Junior Wells and many others. He has been
involved in dozens of recording sessions and can be found playing keys
on many blues albums that have been released over the last 40 years.
David backed up Keith Richards and Eric Clapton for Hubert Sumlin's CD
"About Them Shoes" released in 2005. David's latest album "Blues In
Other Colors" (Blue Duchess) features the mohan veena player, Harry
Manx and other musicians blending in Indian, Moroccan,Turkish and
African influences with the blues. The album received high critical
acclaim.

David's music was used in the movie "Fried Green Tomatoes" and in the
TV series "Touched By An Angel". He has performed on "Late Night With
Conan O' Brien" and is on several videos playing with Freddie King in
the early 70's. (Rounder). David's first CD as a leader "Maximum Blues
Piano"(1997, Tonecool) received high critical acclaim. His album, "Max
Attack" (2005 95North Records), features guests James Cotton, Kim
Wilson, Ronnie Earl, Duke Robillard, Hubert Sumlin and Pinetop Perkins
.

David has performed in major festivals, theaters and clubs in North
America, Europe, Scandinavia, Morocco, Israel, and Japan, and keeps
busy today playing, recording, and teaching (and nurturing his
interests in jazz, ethnic and improvised music.).

David is often compared to the great blues pianist Otis Spann (of the
Muddy Waters band), for his ability to resurrect the spirit and sound
of the master of post-war Chicago Blues Piano. But Maxwell was no mere
imitation. He created a style and sound uniquely his own. His diverse
experience, technical virtuosity, sense of timing and rhythm, and
ability to complement other band members earned Maxwell a reputation
as one of the finest blues pianists ever.
Touring Band Member with Freddie King, James Cotton, Jimmy Rogers, Ronnie Earl and the Broadcasters, Bonnie Raitt, Otis Rush, and Hubert Sumlin.
Performed with Muddy Waters, Otis Spann, John Lee Hooker, Otis Rush, Jimmy Rogers, Buddy Guy, Albert King, Lowell Fulson, Jimmy Withersoon, Big Walter Horton, Rufus Thomas, Big Mama Thornton, Sonny Terry and Brownie McGee, Albert Collins, Arthur "Big Boy" Crudup, Robert Lockwood Jr., Memphis Slim, Hubert Sumlin, John Hammond, Kim Wilson, Junior Wells, Charlie Musselwhite, John Mooney, The Fabulous Thunderbirds, Johnny Shines, Johnny Adams, Billy Branch, Margie Evans, Jimmy Johnson, Fenton Robinson, John Primer, Paul Oscher, Tracy Nelson, Sippie Wallace, Odetta, Levon Helm, Mojo Buford, Snooky Pryor, J. Geils, Jerry Portnoy, Sugar Ray Norcia and Bob Margolin.
"I don't think anybody could be tighter playing the blues on the piano than David Maxwell. He plays the blues like it should be played. He plays the low-down, dirty, funky blues. He's got it all together."
John Lee Hooker
"Dave has always been one of the most amazing piano players I've ever heard. Maximum Blues Piano showcases all of his strengths and is a great ride."
Bonnie Raitt
"David Maxwell plays with fire and soul. He keeps the spirit of Otis Spann alive."
James Cotton
You remind me of the old guys - T-Bone Walker, Aretha Franklin, Ray Charles. You've got a lot of talent on your hands."
Otis Rush
"David Maxwell and Otis Spann are the baddest two piano players I know."
Junior Wells
"Pinetop Perkins is a wonderful living legend of Muddy Waters' era piano boogie, but for my money nobody does Otis Spann like David Maxwell"
Don Wilcock-Blueswax